NMS Aster is our newest apartment community, offering fully furnished co-living apartments in Westwood. Carefully curated interiors were designed by an in-house team of interior designers who considered the needs of Westwood apartment residents. Featuring exceptional smart home features and custom-designed furniture, each living space facilitates the lifestyle that modern renters aspire to live.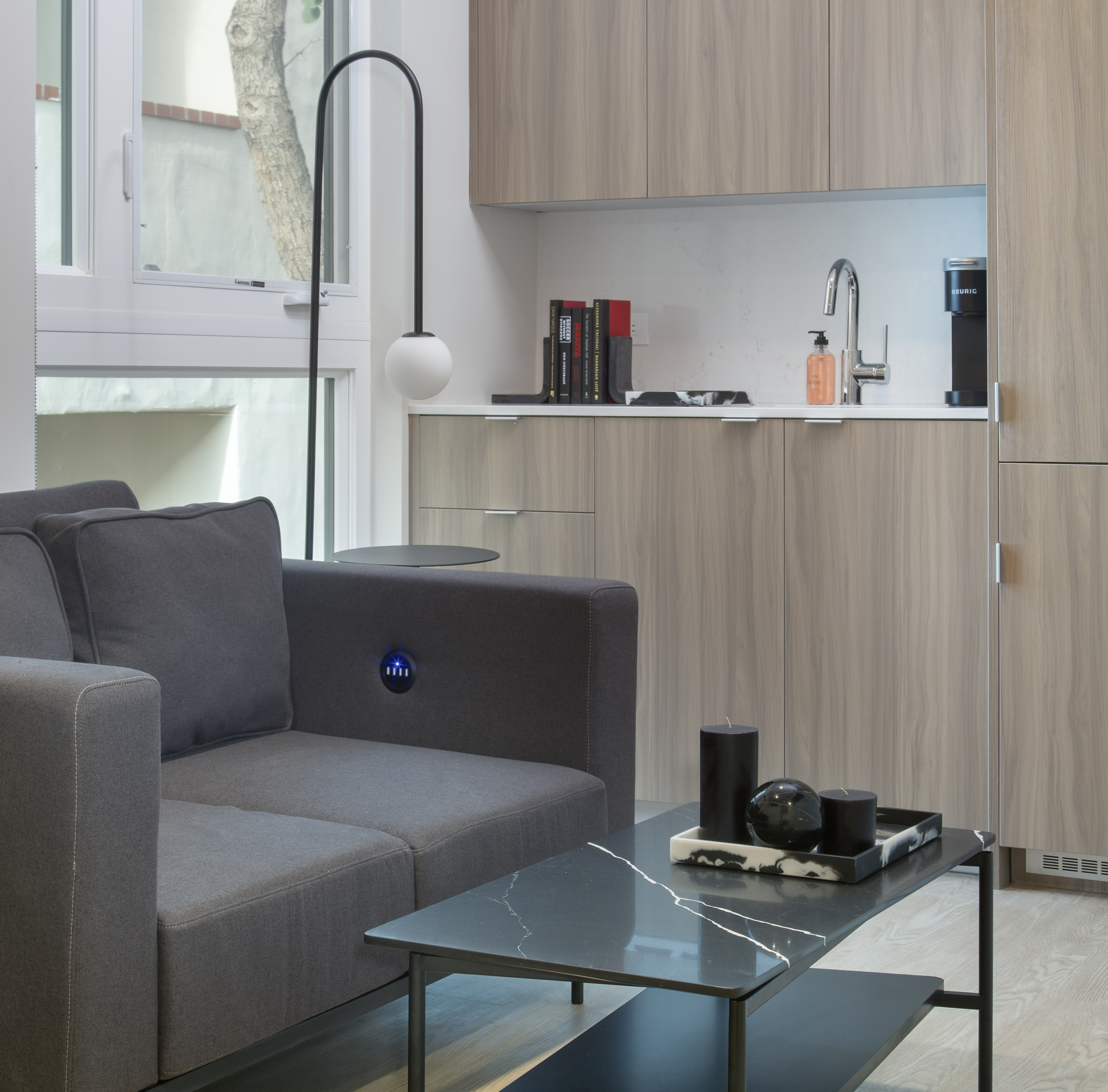 NMS Aster's furnished Westwood apartments are equipped with pre-installed smart home features for seamless connectivity. Every living room love seat comes with a USB port, so you can use a power cord to charge your phone or laptop while watching television and relaxing. Each furnished apartment also comes outfitted with a custom-designed entertainment center, featuring a flat-screen TV. Some floor plans feature a built-in desk, while others feature a fold out desk with plenty of power sources. No more fumbling with cables and wires, NMS Aster has it all covered.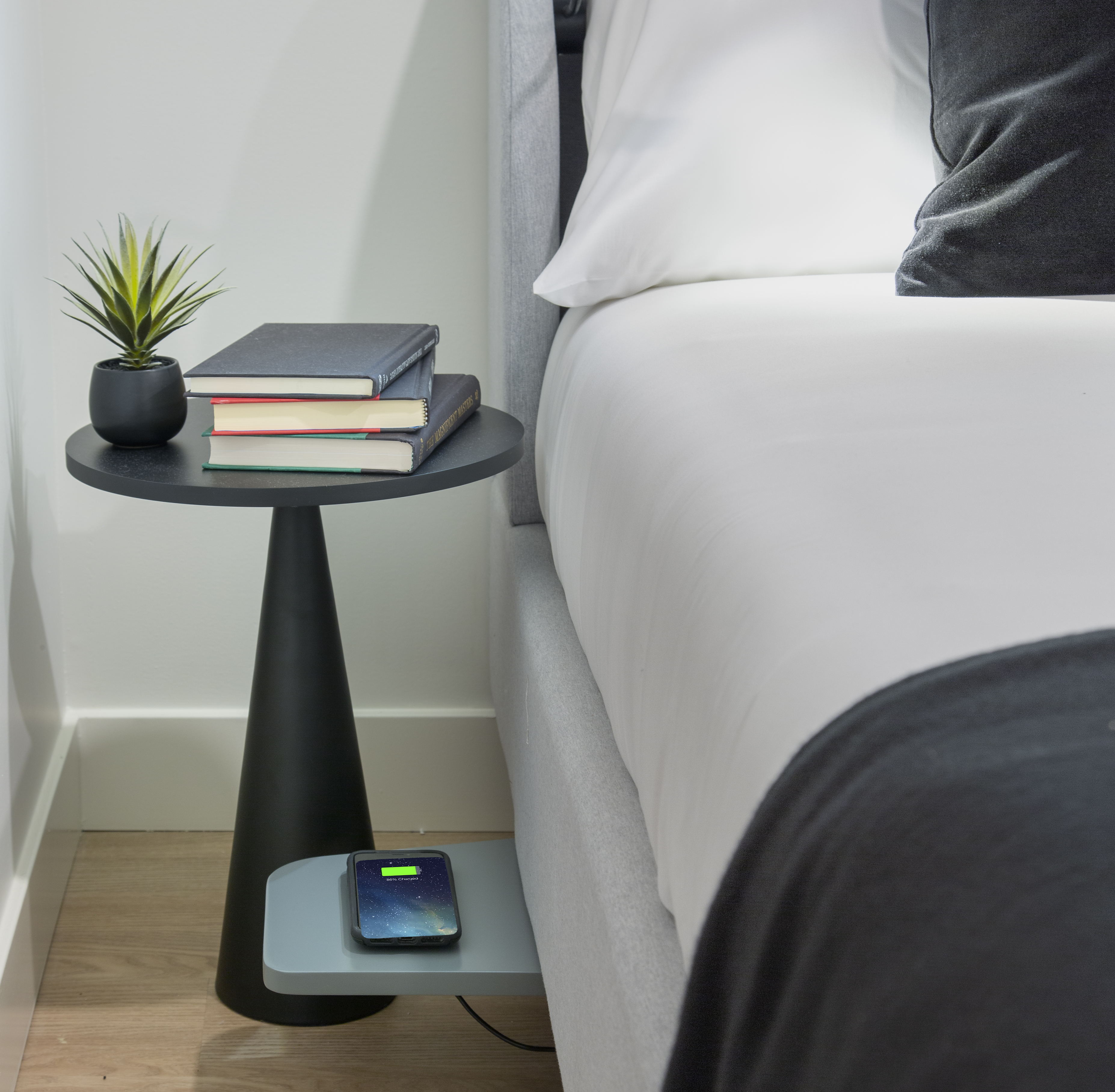 Smart home living does not just stop at the living and study area. Every square inch of our turnkey apartments is bursting with seamless connectivity, including the bedroom. The underside of each traditional bed features a slide-out wireless charging station so that you can charge your phone while getting a good night's rest. As an added convenience, there is a built-in reading light installed on each side of the headboard, so you can snuggle up and read a nice book before you snooze. With NMS Aster, the way you stay at home has never been so easy and efficient.
Our custom-designed furnis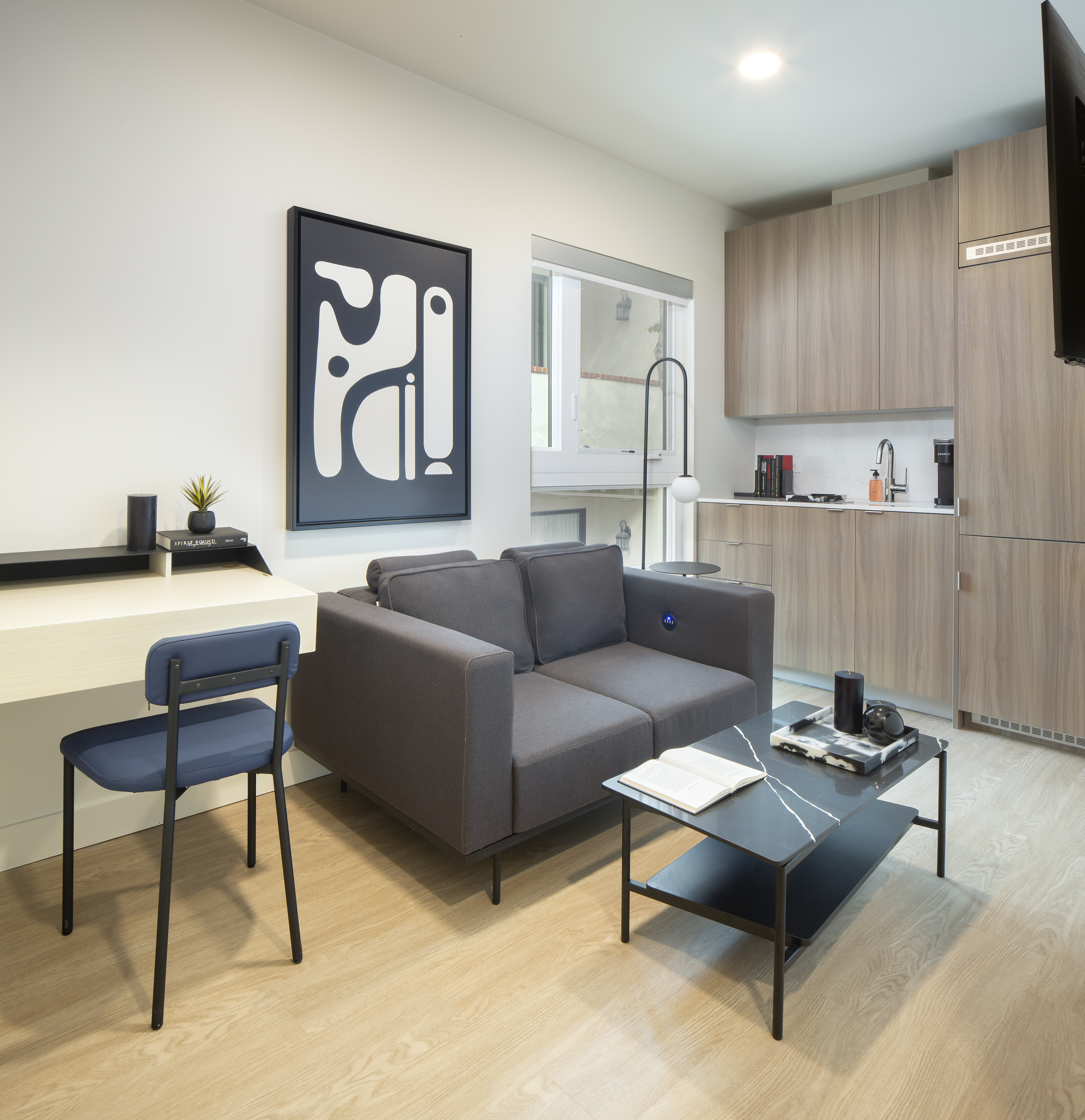 hings contain convenient and thoughtful details throughout. Both bedroom and living room areas feature coffee and accent tables composed of dark marble and gunmetal grey powder-coated steel. Throughout our suites, you'll find plenty of wall décor featuring contemporary-art style pieces. Even our beds keep with mysuite's signature minimalistic design, featuring cozy white bedsheets and grey accents. Explore our furnished apartments and see how we have created a stylish living space without sacrificing convenience.
The design approach for our Westwood apartments is a perfect match to the style and sophistication of Westwood. Each unit has been carefully curated by an in-house team of interior designers who have taken every consideration into account–from smart home features to custom designed furniture with meticulous attention paid to maximizing space. If you are looking for stylish living quarters that are elevated from anything you have seen before, explore NMS Aster's furnished apartment homes today.